Westbrook 'ready for the challenge' of Clippers stretch run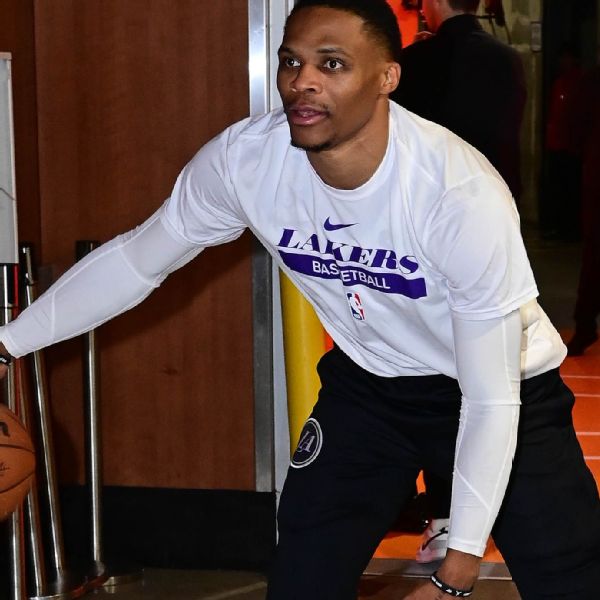 PLAYA VISTA, Calif. — Russell Westbrook grinned from ear to ear as he sat down in front of the microphone ahead of his introductory press conference on Wednesday.
After a tumultuous end to his tumultuous one-and-a-half season tenure with the Los Angeles Lakers, the LA Clippers' new guard says he's happy to be part of a team that wants him, that he's happy to stay home with his family in Los Angeles – and that he would do whatever the Clippers needed him to win, with the ultimate goal being a championship.
"For me, it's just finding my way around so I can help other guys," said the 34-year-old former NBA MVP, who is set to play for his fifth team in five years. "It's something that I really embrace, and that's what I'm going to do – make sure I can make the game easy for all these guys that are here, find out their spots, what they like, what they don't like. And it's going to be a process for me, but I'm up for the challenge and I'm looking forward to it."
This process will be relatively short. The Clippers have just 21 regular season games left before the playoffs begin, starting with Friday's home game against the Sacramento Kings which is expected to be Westbrook's first game with the Clippers. How the nine-time All-Star fits into a team that has won 10 of its last 14 games will also fall to Clippers coach Ty Lue, who, reciting a tried-and-true phrase, said he just wanted "Russ be Russ."
"If he's overdoing it or not enough, I'll let him know," Lue added. "But we want him to be the player he is, the MVP, the Hall of Famer, whatever he brings every night. We want him to be that person, that player. And then we just have to make sure it's within the limits of our team and what we're trying to do as a team."
The Lakers recently traded Westbrook and a first-round pick to the Utah Jazz, marking the end of his stint with the team. After the Jazz made a buyout, Westbrook signed with the Clippers, who had both All-Star Paul George and fellow forward Marcus Morris Sr. openly calling on Westbrook to join the team.
Being wanted, Westbrook said, was deeply meaningful, but Clippers president of basketball operations Lawrence Frank played down the idea that the Clippers' acquisition was based in large part on their own players — namely their stars – pushing for it.
"We always listen," Frank said. "Everyone brings different perspectives. And I think with every decision you make, you listen to your partners. With Kawhi [Leonard] And [George], their opinion counts. Ty Lue's opinion matters. The evaluator's opinion matters. The front [office's opinion matters]. So what you do is put it all together and then, ultimately, it's my job to make the best decision for the Clippers."
"I think this process was really healthy in the sense that we had a frank and honest dialogue – not just internally but also with Russ and his agent, Jeff Schwartz," Frank added. "I thought it was a really clean process in that we discussed a lot of different possibilities to make sure it could be a really good relationship. We appreciate the voices, and I think it's really important to have this open dialogue, and I'm happy with the outcome."
On Feb. 10, after the trade deadline, Frank outlined the qualities of a playmaker who could best fit the Clippers' current build, as the team lacked positional depth after trading Reggie Jackson and John Wall. Frank said the Clippers would like someone who "won't be played on the field defensively, someone who can share ball responsibility, but isn't quite as dominant on the ball yet."
Asked about those remarks on Wednesday and what Westbrook could bring, Frank said that when the Clippers assessed the buyout market, they felt Westbrook's strengths in terms of "strength, intensity, rim pressure, ability to going down, just his general style of play and just who he is" would fill in the holes for the team led by Leonard and George.
"Russ is one of the most explosive and intense competitors in the league," Frank said, "and we think the many strengths he possesses will grow and really help our team."
It's still unclear whether Westbrook will come off the bench or start for the Clippers, and Lue didn't reveal his preference on Wednesday. But Lue said he thought Westbrook would make it easier for Leonard and George – his former running mate with the Oklahoma City Thunder.
"We know the style of game we play is often a tough game, with PG and Kawhi getting easy hits," Lue said. "But I think Russ can help make some of those easy baskets like John [Wall] made for us. …And it's my job to make sure everything works. So I'm excited to take up the challenge."
Westbrook averaged 15.9 points and 7.5 assists and 6.2 rebounds for the Lakers, and his rebound, in particular, should be a boost for the Clippers.
But Westbrook is also averaging a career-low 28.7 minutes per game, and his goals, field goal attempts (14 per game) and field goal rate (41.7%) are all at rock bottom. since his rookie season in 2008-09. Westbrook was also a ball stopper. According to Second Spectrum, Westbrook has the 11th longest average time per touch on offense this season at 5.32 seconds per touch. George has the highest average on the Clippers at 4.37 seconds per touch.
When asked how Westbrook would play the ball, Lue clarified that the ball would also be in his hands.
"You don't average a triple-double without having the ball in your hands," Lue said. "We know he can make plays and make good plays. The most important thing is, when he's off the ball, what we're going to do with him, how we're going to use him. It's going to take a bit When you're the league's MVP and a Hall of Famer, you have to change your game in certain areas, so we have to help him.
"It's going to take a little while because you've been used to playing a certain way, a certain style of basketball your whole career, and that's what makes him Russell Westbrook. So we don't want him But when he's off the ball, just find things he can do off the ball that impact the game and impact winning and impact our team as well. So we'll do that.
Westbrook offered his take.
"I think the most important thing is to arrive, to keep the pace high, to use my speed and my ability to get into the paint. [and] get these guys easy shots [is] where I think I can help a lot," he said. "Everything else, I'm going to fit in and continue what they have right now."
Lue didn't want to compare Westbrook's situation with the Lakers to his current form, and the coach pushed back against the concept that Westbrook would accept a diminished role.
"I would say there are things he can help our team that we need in terms of passing, pace, getting into the paint, attacking downhill," Lue said. "We need those things every night. He brings a lot of things that we can use. I focus on the things he brings every night."
Westbrook said he was happy to reunite with former teammate George and longtime friend Lue. Of Leonard, Westbrook said, "I'm super excited to not just be here, but to pick his brains out, find ways to make it easier for him, and I can't wait to be there."
The Clippers will not only have to integrate Westbrook into a team that has grown in size, but also with guards Bones Hyland and Eric Gordon, both acquired by the Clippers in recent trades. Finding a rhythm and getting new players to adapt to their roles will take time, Frank said, but he noted his confidence in Lue to strike the right balance.
Westbrook, however, kept coming back to the same theme: he'll do whatever it takes.
"Whatever they ask me, whatever they need me to do, I will do it and I will do it to the best of my ability," he said. "I hope everything goes well with that."