Mick Cronin calls UCLA top seed 'comical' in NCAA bracket preview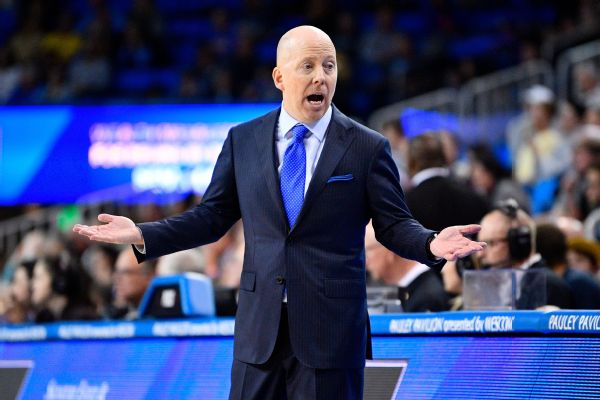 LOS ANGELES — The Division I men's basketball committee unveiled its top 16 teams for next month's NCAA tournament on Saturday, and UCLA coach Mick Cronin found his team's current top seed was "comic".
Top-seeded Alabama was voted the committee's top seed. Houston No. 2, Purdue No. 3 and Kansas No. 5 have been selected as the No. 1 seeds – for now.
No. 8 Arizona was selected as the sixth seed, while fourth-seeded UCLA was eighth. The Pac-12 rivals will meet on March 4 in their regular season finale. The Wildcats beat the Bruins 58-52 last month.
"If you ask me for my one-word answer on this ranking — comedic," a straight-faced Cronin said after the Bruins routed California 78-43 on Saturday night. "I'll try not to laugh."
Cronin attributed the Bruins' projected top seed to last summer's announcement that UCLA and USC would leave the Pac-12 to join the Big Ten in 2024.
"When we left the Pac-12, it cost a lot of people millions of dollars and there was going to be a fallout, and I think that's a direct result," he said. "I had nothing to do with our leaving the league, but you're dealing with the fallout by being a lame duck."
The committee placed the 16 teams in the four regions. The Bruins (23-4 overall, 14-2 Pac-12) landed in the East Region, playing in New York, with Purdue, No. 11 seed Iowa State and the lead of Serial No. 14 Marquette.
Meanwhile, Arizona (24-4, 13-4) was placed in the West, to be played in Las Vegas, with Kansas, the No. 12 seed Kansas State and the No. ° 15 Gonzaga.
"A few years ago we proved that your seed doesn't matter," Cronin said.
In 2021, the 11th-seeded Bruins reached the Final Four before losing in overtime to Gonzaga in the national semifinals.
UCLA leading scorer Jaime Jaquez Jr. said he was unaware the preview bracket was announced.
"I will wait for the final installment to be excited or not excited," he said. "Probably excited."
The bracket preview show aired on CBS.
Selection Sunday for the NCAA Tournament is March 12.